Hi Star
Are you ready?
For a break down of the workout …
But because working out WORKS up an appetite and it is Wednesday, I will showcase a recipe and some of my yummy eats. Before I get started, I would like to share my gratitude to Jenn @ Peas and Crayons for hosting a LINK UP party! Head on over to her BLOG for more recipes + healthy eating tips!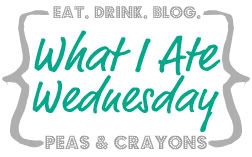 Breakfast is the same ol same ol  (5-6 egg whites) except I have traded my Pomelo for Watermelon. I go through obsessions and Watermelon is mine as of right now and let me tell you I had a friend ask if I was preggers because I was buying watermelon off the street at every corner #iswear.
I am starting to get into pre-workouts again and since Matcha Green Tea powder is available EVERYWHERE, I have been taking full advantage of this energy booster and making Green Tea Power Shakes before my AM workouts.
Pre-Workout: 2 tbsp. Green Matcha, 8 oz. Water, 1/2 Mini Banana, 1 tsp. Stevia + 3 oz. Homemade Almond Milk
Lunch time came and I have been enjoying the ease of cooking ground chicken. I had some produce leftover from my CSA Munching Box, so I added that in towards the end of cooking my ground chicken. This salad includes: Greens, Sprouts, Eggplant, Cucumber, Dried Cranberries and Ground Chicken cooked in Coconut Oil with Himalayan Sea Salt + Ground Pepper. I dashed some balsamic vinegar and  I have been using fresh Lime Juice for my dressings and am loving the burst of flavor lime provides. Thailand has limes for sale EVERYWHERE, so they are so easy to pick up, extremely affordable and create tons of flavor for salads without any additional calories!
Snack time was another shake, I am loving my new little bullet! This time I did the other half of the mini banana,  1/4 cup Aloe Vera Juice, 1 tbsp. Bee Pollen, 1/4 cup Home Made Almond Milk and 1/2 tbsp. Almond Butter + 1 tsp. Stevia.
and a few hours later DINNER time came..
Recipe coming soon, I have to save it as I need to make one small change, make it again and make sure it comes out perfectly but let me say it was AMAZZINNNG!
The basics: Green Beans, Red Pepper, Carrots, Ground Chicken, Hoison Sauce, Sweet Basil and Keffir Lime Leaves.
Seriously, delish..
Recipe will be here before you know it, I just did not want to fall into Martha Stewart's category of "bloggers."
For more WORKOUTS check out this post + this post.
SO I wanna know..
What dishes are your ultimate fav's during Thanksgiving?
Pumpkin or Apple Pie? Something else?
What do you just have to cook every Thanksgiving?
LET'S CHAT SOME MORE ON FACEBOOK.
FOLLOW MY TWEETS @STARSYSTEMZ AND SAY "HI STAR!"
FOLLOW ME ON INSTAGRAM @Star_Systemz!
Check out my MEAL PLAN by clicking HERE.