Hi Star,
The weeks here in Bangkok are just FLLYING by, not sure if its because everyday is an event or the fact that to get anything done around these parts takes an entire day. I feel like I have been here for 6 months  and it has only been 2 months.
This past weekend was jam packed with work outs, bootcamps and parties. I hosted a bootcamp on Sunday for a group I created which I cleverly named The Bangkok Babes. I gave them a dose of the Star Systemz Method mixed in with laughs and good times! We had a blast and I look forward to ROUND 2 this Sunday!
But because it is Wednesday, I will showcase a recipe and some yummy eats. Before I get started, I would like to share my gratitude to Jenn @ Peas and Crayons for hosting a LINK UP party! Head on over to her BLOG for more recipes + healthy eating tips!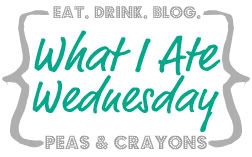 Monday mornings are my all time favorite as it is Sunday night in LA and I am able to call my family and friends, catch up and see how everyone is doing. Instead of slaving in the kitchen, I throw together my Powerhouse Cereal Mixture (Recipe HERE) and let it soak while I am on the phone. I love soggy cereal, not sure what it is but something about all the flavors soaking together reminds me of my childhood. Of course back in those days I was chomping on Cinnamon Toast Crunch and Full Fat Milk..
Feeling caught up with everyone, I was pumped to get to the gym. My legs have been worn out from squatting heavy so I have decided to take a small break from the heavy lifting. I rocked this workout along with leg presses with no weight and squats with no weight.
My sweat session was great and my booty was on FIRE!
I went out to get my hair done and grabbed a little sweet treat. After Monday's post on Fitspo's, Thinspo's and Whateverspo's (<–Read HERE) I wanted some Ice Cream so I went in to Vista Cafe and finally had myself some Coffee Almond Dairy/Sugar Free Ice Cream..
This scoop was all I needed, it was the perfect constancy and was so delicious I almost turned around for a second scoop. A scoop of this health conscious ice cream was only 50 BAHT ($2.50 USD). I will go back to Vista Cafe and do a review because they have Ice Cream and Foods catered to Blood Types. To be honest with you, I still do not know what my blood type is and I should before I go back..Have you heard of the Blood Type Diet?
I came home with freshly curled blonde locks and it started to rain cats and soi dogs so we stayed home which gave me time in the kitchen to create.
Living in Cabo for a year I was able to experience Authentic Mexican food and those spicy chiles, salsas and street tacos linger in my mind + taste buds still to this day.  Searching down the aisles of almost every large chain grocery store in Bangkok, I have been unable to find a decent salsa. So instead of wasting time, I have made my own which is 100 times better. No preservatives, chemicals, color agents and MSG's and just as delicious.
[amd-zlrecipe-recipe:25]
After creation of my new favorite sauce, I wanted to test it out as a marinade for dinner that night. I have been having many sleepless nights due to insomnia and was watching Martha Stewart the night before. She had a segment where she discussed many different types of marinades, one being Dijon Mustard. I wrote this out in my journal before shutting my eyes finally..UGH insomnia sucks. The sleepless night was worth it, as I magically came up with an incredible recipe..
[amd-zlrecipe-recipe:24]
A big thank you to the one and only Martha Stewart for being on at 3 AM…
Baby greens, cucumber, organic corn, green onions, Tex Mex Chicken, Carrots and Salsa dressing. (<–I also threw in a Jerusalem Artichoke)
..and for the real deal find some organic Corn Tortillas, throw in the chicken add slices of Avocado, more salsa, top with green onions and squeeze a lime on top.
This juicy chicken recipe is extremely versatile and leftovers the next day are even SPICER. For leftovers, toss in a soup, or salad. I have been using the salsa on my eggs in the morning, as a salad dressing at lunch time and a nice dip for my veggies at snack time.
SO I wanna know…
What is your favorite home made sauce?
Eat anything spectacular this week? I want to know so comment below..
LET'S CHAT SOME MORE ON FACEBOOK.
FOLLOW MY TWEETS @STARSYSTEMZ AND SAY "HI STAR!"
FOLLOW ME ON INSTAGRAM @Star_Systemz!