Hi Star,
Happy HUMP day! Welcome to another edition of WIAW (What I Ate Wednesday) where I show off my eats, a recipe (usually) + maybe an adventure..or two..and maybe a Bangkok Restaurant Review..
Before I get started, I would like to share my gratitude to Jenn @ Peas and Crayons for hosting a LINK UP party! Head on over to her BLOG for more recipes + healthy eating tips!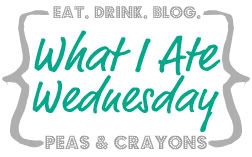 Seriously, visit her blog it has so many bloggers + delicious healthy recipes you may find some new delicious foods to make during your food preps or to bring to your next potluck!
Today I will showcase random eats throughout my week as showing off my new home in Bangkok is way more fun then showing you the awesome chicken salad I have been making pretty much everyday for lunch.
My hubby's Dad used to make a special breakfast dish and my hubby kept talking about it so I said one morning I will make it. So I did, and the outcome was slightly successful. Feast your eyes on the Egg Pizza..
Underneath the egg-y goodness is potato and on top of the egg-y goodness is turkey bacon. The only problem was I did not boil the potato long enough, as said by the hubs whom I made this for, but next time I will boil that potato just a tad longer and get it to perfection! To make this dish, all you need to do is boil a potato, slice it and grill it on one side. While that is going on grill up some turkey bacon in another pan. Flip the sliced up potato and pour beaten eggs all over. Once the egg is not runny, sprinkle on the already cooked turkey bacon and grill on medium until egg is fully cooked. To make this dish a bit healthier use a sweet potato and egg whites only.
It is a super easy dish and filled with all the right stuff to get your morning started off on the right foot!
This weekend the hubs and I explored, which was a nice change up from getting set up at our home front. We ventured off to a very touristy area to visit a farmers market. Before exploring the farmers market at Riva Surya hotel, the hubs and I decided to eat some lunch at the restaurant located inside of the hotel.
I ordered a traditional Chinese Dish called Gai Phad Med Mamuang, basically Chicken with Cashew Nuts. It was light, spicy and delicious. My taste buds have been craving spicy foods lately, so I have been embracing the spice as much as I can in my meals. Plus a little spike in my metabolism does not hurt either! Spice spikes the metabolism just for a bit, the spices that are known to do this come  from Chiles, Cayenne Pepper and Capsaicin peppers (jalopenos, habeneros).
With my mouth on fire and my tummy full, it was time to visit the farmers market. The farmers market was quite small compared to K Village (check it out here) but had many organic vendors with fresh juices, grains and a booth with delicious Mediterranean Food.
around the corner from the Farmers Market was some fun touristy type scenery but all new to me and the hubs..
After wandering around the town we hopped aboard a river boat and took a nice tour all the way to the BTS. We ran across some beautiful architecture and a nice rainy spell which left us both soaking wet but laughing all the way home.
I love taking the Chao Phraya River over to the BTS  because it is a fun way to get around, no traffic + at only 20 baht (0.75 US) a person you really can not beat it!  I highly suggest taking advantage of Bangkok's public transit systems as they are VERY affordable and VERY convenient to get around town.
Walking around all day and taking public transportation has my cardio checked off most days. I also have a much larger appetite, which is fine considering I am still working on making a baby Bentley and more food is needed in order to do so! Dinner that night was another adventure. We headed out to Soi 11 where many restaurants reside and food is top notch! I love trying out all the different restaurants on this Soi! The hubs had been recommended to try Above Eleven so we decided, heck why not hang out above Soi 11, enjoy some cocktails and have a nice dinner. The restaurant itself is on the 33rd floor and overlooks all of Bangkok and her beauty. To take this scene in and enjoy the pleasures of the scene, I enjoyed a Passion Fruit flavored Vodka with soda and I would go back as they poured heavy and had many different flavors of vodka to choose from.
Dinner was even better then my cocktail (possible? YES). It was a tasty tuna steak on top of mashed pumpkin, mixed in with red peppers and onions. I thought it was random to have pumpkin and tuna together but it really was delicious, the kind of delicious where you start licking your plate.
 So I wanna know..
Are you a scenic person or more of a food person when dining out? I like to have a taste of both when dining out!
Are you into the pumpkin mash with fish? It reminded me of Laura over at Sprint2thetable's #Strangebutgood creations.
Do you like flavored vodka? My favorite concoction is infused vodka (recipe here) but a nice flavored drink hits the spot!
TO LEARN MORE ABOUT STARSYSTEMZ ADD ME ON:
LET'S CHAT SOME MORE ON FACEBOOK.
FOLLOW MY TWEETS @STARSYSTEMZ AND SAY "HI STAR!"
FOLLOW ME ON INSTAGRAM @Star_Systemz!