Hi Star,
Welcome to another WIAW (What I Ate Wednesday) where I show off my eats, a recipe (usually) + maybe an adventure..or two..
Before I get started, I would like to share my gratitude to Jenn @ Peas and Crayons for hosting a LINK UP party! Head on over to her BLOG for more recipes + healthy eating tips!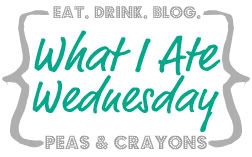 Moving to Bangkok has been an eye opening experience for me. I am so grateful to have been an expat before because I was mentally prepared for the fact I am not able to just walk into a grocery store and buy Almond Milk, Cashew Butter + all the other fun things I enjoy eating on a daily basis. Being an experienced expat. I am WELL aware that I can buy these items but at QUADRUPLE the price sometimes even FIVE times the price of what I am used to. Since I would rather fill my closet and my makeup drawers up, I had to learn how to make my beloved favorites from scratch.
Like my delicious Strawberry Almond Milk, or just plain old Vanilla Almond Milk (step-by-step HOW TO here + here)
By all means, I am happy about this, my sometimes lazy self cares way too much about not putting premium fuel into my body to care that it takes some time + a bit of mess to make my very own almond milk, but it really is worth it..
The best part is using the almond pulp to make fun treats because honestly what goes better with almond milk than a nice warm muffin?
I especially love this almond pulp recipe..
[amd-zlrecipe-recipe:22]
I literally woke up and made almond milk..that morning was an off morning for me, I was getting down in the kitchen so breakfast was not the usual. I took after one of those muffins with a fresh glass of almond milk…
Since my breakfast was a bit sweeter than usual, for lunch I had my leftover salmon on top of a bed of lettuce, steamed broccoli, cucumber + dried cranberries all tossed in organic white rice vinegar.
After my yumness, I got to work! I have been working hard on re-designing my blog and officially launching my Star in Ten Challenge (for more info check it out here) Due to the expat lifestyle of drinking every night, meeting for happy hour + free flowing booze on ladies night I have been working out a bit extra. During my hours of photoshopping I did this workout..
and after my eyes were so dry I could not blink I went to the gym and did this workout..
You can find a break down with video of these workouts here + here..
Post workout I was craving peanut butter but since I did not have any I opted for these..

and a few more hours creating meal plans for clients and writing out a bootcamp plan for Bangkok..
I am trying to come up with a creative name for my Bangkok Hunnies..
Any thoughts on: Bangkok Bad Girls Bootcamp, Bangkok Booty Camp…
Then a nice chicken with spices, sweet potato mashed with cinnamon and cucumber with mint leaf salad for dinner..

Later on that night the hubs + I ventured off to the Banyan Tree Vertigo Bar which was a recommendation from everyone and anyone that I know who has been to Bangkok. The view was breathtaking, the drinks overpriced but definitely worth the splurge plus they over poured my drink giving me a double for the price of one so I really can not complain..
So I wanna know..
Have you ever had to make your own health food favorites? (almond milk, cashew butter etc.)
What is your all time favorite cocktail?
What did you eat this week that you were obsessed with?
LET'S CHAT SOME MORE ON FACEBOOK.
FOLLOW MY TWEETS @STARSYSTEMZ AND SAY "HI STAR!"
FOLLOW ME ON INSTAGRAM @STAR_SYSTEMZ!