Hi Star,
It is FINALLY here! My 10 day detox is FINALLY HERE to LAUNCH. You may have read mention of this cleanse through my INSTAGRAM + FACEBOOK pages and maybe even from some of my clients who have TRIED, TESTED + LOVED the Star in 10 Cleanse and wondered…
What is Star in 10?
The Star in 10 is unlike your AVERAGE run of the mill cleanse and is GREAT for beginners. Eat nourishing whole foods while detoxing WITHOUT going hungry! The program consists of a 10 day detox + MOTIVATIONAL emails to keep your going throughout the program.
What are the Benefits of Detoxing?
Jumpstart HEALTHY Habits
Increase 

ENERGY

Cleanse the TOUNGE + Mind/Body Interaction
Banish those SUGAR, CARB + Processed Foods Cravings
Feel Confident in a SLIMMER physique
GLOW with a CLEAR complexion
Be HAPPY + feel GREAT about yourself
Enjoy restful SLEEP

Move those TOXINS out of your BODY
I personally use the Star in 10 Challenge when I need to be in TIP TOP shape….
What is included in the Star in 10 Program?
10 DAY MEAL PLAN (effortless + EASY) with THROW TOGETHER, EASY recipes
Motivational support throughout the entire program

Printable Grocery List with exact numbers of what you need during the 10 days

TIPS + Tricks I have used + given to my clients + use to get myself in TIP TOP SHAPE
A Grocery List with MEAL + SNACK ideas for LONG term success given at the end of the program
Upcoming event? Bikini Party? Photoshoot? Reunion? Get Back at Your Ex-boyfriend? Ready to JUMPSTART your healthy lifestyle?
Let's get STAR-TED!
Star in 10 Testimonials:
I love this cleanse and do it before EVERY event or summer time bikini party. I love the simplicity of this detox and use these recipes as my "go to " whenever I need an easy meal that I know is good for me. I had total energy during the 10 days and have recommended it to all my friends who love it as well! The first time I did this cleanse I lost 7 lbs. with ease and Courtney's support made it even easier. Thanks CourtStar. – Tiffany Selby

I eat pretty well but needed a guided challenge in order to make changes to my normal diet and routine. Courtney recommended her Star in 10 to help kickstart me into new habits and a better lifestyle. With her tips and tricks, I was able to change my ways and lost a few pounds in the process. The tips Courtney has are INVALUABLE, she really makes it easy to live the "Star Life."- Monica Toth

Courtney trained me online for 8 weeks and jumpstarted me with her Star in 10! She doesn't give you some generic workout/diet plan but tailors everything to YOUR life. I went on vacation, went out to eat, and had friends visit and still lost 13 inches. Courtney is positive, motivating and truly believes in helping people become their healthiest and fittest possible selves – I would (and do) recommend her to anyone! -Susie Gonzalez
I want, I need, I have to have it..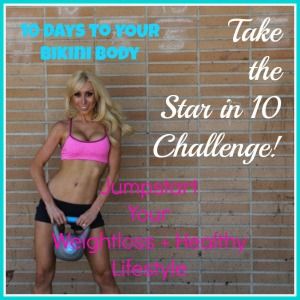 So I wanna Know…
What challenges have you tried in the past?
TO LEARN MORE ABOUT STARSYSTEMZ ADD ME ON:
LET'S CHAT SOME MORE ON FACEBOOK.
FOLLOW MY TWEETS @STARSYSTEMZ AND SAY "HI STAR!"
FOLLOW ME ON INSTAGRAM!