Hi Star,
I am finally getting back into the groove of things and closing another chapter in my life has been a bit chaotic, but exhilarating all at the same time. I have to remind myself constantly to BREATHE + just FOCUS on what needs to get DONE. On top of getting my life packed up + stored away I needed to renew my Personal Trainer's certification. I thought I had already finished what needed to be done, but I guess one of the seminars I attended did not count (blah..) so getting in 8 hours of work in 4 days has been ROUGH! Plus, I had to renew my CPR/AED license (YAY to saving lives..)
I also got my TRX certification + Post Partum Nutrition certification both which will be useful for me later on when I get to experience the pleasures of Motherhood. TRX is something I have always been interested in at the gym and after playing around with it, I knew it would be another skill I wanted to add to my list. I like TRX simply because it uses your own body weight as resistance + is great for those who are rehabilitating, are pregnant and new to working out. I also like the endless possibilities of exercises you can do + its effectiveness in building muscle strength.  
If my schedule allows for it, I plan to be at the IDEA Fit Conference, anyone else going? Let me know! I would LOVE to meetup and have a buddy to go with!
In honor of Wednesday, I wanted to share with you what my Tuesday looked like! Thanks to Jenn @ Peas and Crayons for hosting: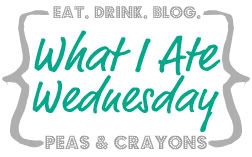 I woke up on Tuesday with a stomach growl stating I was ready to have my awesome fat burning breakfast!
I brought my Lara Bar with me to CPR class since savings lives requires FUEL + I am now on a eating every 3 hours plan to gain weight. More on that next post 🙂
For lunch, I INHALED my Matzo Ball Soup I made from SCRATCH. I made my own chicken broth + matzo balls! Let me just say, I am still beaming with delight knowing I can make my favorite soup from scratch. I have been on a mission to make all of my favorite dishes from scratch knowing that in Thailand I will be without my favorite seasoning packets + matzo ball mix.
I have also been in the baking mood lately, so I took my leftover buckwheat groats and googled to see if I can make flour with it and I learned I could so I took out my coffee grinder + started grinding away. If you do not have a food processor, and it is not in your budget, RUN out and get a coffee grinder (usually at good wills + garage sales).
[amd-zlrecipe-recipe:14]
The perfect fat + protein mix all in one tasty snack. Snow a slice with stevia + ENJOY!
Dinner was a fun outing with Meg from MegsMakeup.com (best beauty reviews on the NET) and our guys..
 So I Wanna Know..
Have you tried TRX or another type of suspension training? What did you think of it?

What is your favorite flavor: strawberry, vanilla, chocolate or combo?
What is your favorite seasoning to use? Do you rely on packets or make your own mixes?
TO LEARN MORE ABOUT STARSYSTEMZ ADD ME ON: