Hi Star,
Welcome to ANOTHER WIAW where bloggers from all around the GLOBE showcase what they ate for an entire day. My eating days have been ever changing and since my life has been crazy busy, I have not had time to play around in the kitchen so this week I made an EFFORT to create something tasty, NEW + hubby approved!
Thanks to Jenn @ Peas and Crayons for hosting: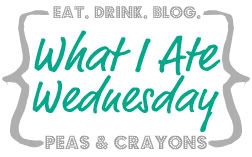 After two weekends filled with L-O-V-E + bliss watching my best friend MARRY her TRUE LOVE…
I needed a little DETOX session…
My OVERLY acidic body fueled on booze, desserts + coffee needed to alkalize for a few days. Usually after a few cocktailed filled days, I have a detox sesh as I call it. I start my day off by waking p bright and early to start my AM routine and create myself a GREEN juice. Refreshing, rejuvenating and just what the DR ordered to get rid of the hangover and heartburn..
RECIPE for Star N SHINE Detox HERE —) CLICK HERE
Lunch was the newbie to my recipe gathering and something I will recreate often as I really enjoyed it + so did the HUBBY which was surprising as he is NOT a meatless kind of dude. The next few days after a fun weekend I try to go meatless, as meat is acidic to the body, and since my body is OVERLY acidic, taking the meat, coffee, black tea (caffeine) + anything processed out of my diet for 1 to up to 3 days is EASY, PEAZZY + worth it to get my body back to a POSITIVE state of being..
[amd-zlrecipe-recipe:11]
Instead of using plastic containers, I pack everything into mason jars
Now that the sun is shining again, my ALL TIME favorite drink comes out to PLAY…
I brew up the Passion Iced Tea (on sale right now at Target), Juice 3 Lemons + Add about 1 Tbsp. of Stevia (I have a sweet tooth..) and let it brew in the fridge.
She was sweet like candy…
Snack ATTACK, my all time favorite Trader Joe's Fruit Strips! I had such a candy craving so these little guys were a perfect SUBSTITUTE!
 No, I did not DEVOUR all of them, but for only 50 cents I had to pick up a bunch for the house.
I normally like to DROWN my food in Red Wine Vinegar but since again I am trying to get my body back into a POSITIVE state, I had to skip it and go BARE for my dinner..
A little bit of GREEN (kale + spinach + pea shoots + green beans) Carrots + Corn + Brown Rice + Dried Cranberries. Plain JANE..
Would you give up acidic foods (meat, cheese, coffee, sugar etc.) For a few days just to give your body a break?
I do this often just to reset myself and give my body a nice fat peace sign!
What did you eat this week that was intergalactic?
I will do a follow up post to explain more about alkaline/acidic foods in the next week, so lookout for that.
This Friday is…
over here at Star Systemz so grab a friend, take photos and share your story right here on Friday, every Friday!!
What are you doing with a friend this weekend? I know how easy it is to just go whine over coffee, but get OUTSIDE, try a YOGA class, get a MASSAGE together all ways to be FIT, HEALTHY + WELL!
Spread the Wellness..
FOR MORE STAR SHININ INFORMATION CHECKOUT: